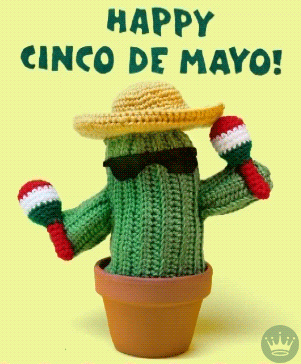 Every country has significant dates that have been designed to celebrate cultural, religious or national achievements. However, a significant date in a country might be insignificant in another country. Irrespective of the difference in auspicious dates, countries ensure that these dates are well respected in a bid to uphold national events as well as preserve the country's culture and tradition. In #Mexico, Cinco de Mayo is a celebration which is held every May 5th to honor Mexican Army's victory in the battle of Puebla under the command of General Ignacio Zaragoza. Cinco de Mayo is usually accustomed with traditions like folklores, military parades, dancing and music. In expectation of this special day, below are five (5) things you need to know about Cinco de Mayo:
1- It is not a celebration of Mexico's Independence Day
Many have termed Cinco de Mayo as Mexico's Independence Day but in actual sense, it is a special day that have been designed in recognition of the battle between the Mexican army and the French empire. The euphoria of this day is due to the fact that the Mexican army won the battle despite the fact that France had a larger army.
2- Abraham Lincoln was unable to give his full support
During the Puebla war, America was also going through a strategic civil war. So, Abraham Lincoln could not directly support even though he wished to help out.  However, immediately after the civil war ended, America stepped in to drive France out of Mexico.
3- Napoleon III had more plans to initiate
Beyond conquering states to spread the French empire, Napoleon had more plans in mind. Napoleon planned to destroy Mexico's access to the United States by supporting the confederate army in a bid to cause division during the civil war, and to ultimately lessen America's strength.
4- Franklin Roosevelt popularized Cinco de Mayo in America
To improve foreign relations with Latin American countries, President Roosevelt enacted a policy known as 'Good Neighbour policy' in 1933. This policy brought an introduction of Cinco de Mayo which ultimately led to its incorporation as a National holiday.
5- The biggest Cinco de Mayo celebration is in Los Angeles
In Mexico, it is largely celebrated in Puebla and Veracruz. However, L.A's celebration is bigger and more popular than the celebrations in Puebla and Veracruz. During this period, the streets in L.A are usually blocked, and people fill every corner to wine and dine.
Cinco de Mayo has become an irreplaceable part of Mexicans and #Americans. Usually, everyone looks forward to a fun-filled holiday.
More Readings:
The Best Places to Spot Celebrities in NYC
Click Here to visit our Copacabana Catering and Events Website
Please reload