When it comes to dating, you either hate it or you love it. But one thing we can all agree on is that planning or choosing a great dating spot can be fun (sometimes more fun than the date itself). Whether it's date number one or date number 10, this is NYC, so you can always do better than another basic dinner date. We've got you covered with five fun ideas for your next date.
1. Toast on a hotel rooftop
A rooftop bar or lounge will take any date to the next level. They guarantee a romantic afternoon or evening date, especially if you arrive before sunset. The Press Lounge in Hell's Kitchen is a classy spot for a romantic evening. In Midtown East, The Roger Smith Hotel's intimate rooftop bar, Henry's, is open from April to October and promises a memorable, picturesque evening. Enjoy Mediterranean snacks like hummus and baba ghanoush with your drinks at The Blue Rooftop bar at The Marmara Park Avenue.
2. Boozy brunch
You don't need an excuse for brunch, but if you did, a date is the perfect occasion. You and your date can delight your taste buds with delicious breakfast/lunch hybrid specialties while you sip on creative cocktails, sangria or bloody marys. There are dozens of options all over the city. We say choose a place with a high Instagram following — followers usually know what's up.
3. Go dancing
We all know dancing puts the "f" in fun, so put on your dancing shoes on (your regular shoes should work too) and get out for an exhilarating night of swinging and swaying with your partner. Head to Salsa On 2'sDays at The Copacabana for a lively Latin party and a DJ spinning tracks that will keep you on your feet. You can keep things on the cheap side since admission is just $10 per person. Or, you can treat your date right and book the couples package for $100, and enjoy a bottle of champagne, complimentary snacks and a reserved table for two, for when you need to catch your breath.
4. Floating restaurants
If you and your date like food and boats, then a meal on a boat is right up your alley. You can take advantage of this fun couples outing during the day or the evening, depending on how fancy you want to get. For a fun daytime food and booze cruise, check out North River Lobster Company at Pier 81. If you're picturing a New England-style lobster shack, that also floats, then you're thinking like someone who can appreciate this small slice of New England on the Hudson River. You and your partner can bask in the sun while staying cool with cold beer or cocktails and enjoy fresh fare like lobster rolls, fish tacos and a raw bar. If you prefer a romantic evening experience, go with a dinner cruise for its sophisticated and intimate setting, gourmet food, and breathtaking views of the New York skyline. Spirit Cruises and Bateaux New York Cruises at Chelsea Piers have offerings at different price points for a perfectly relaxing and romantic date.
5. Explore
Exploring the city is even more fun when you're traveling with a partner. With so many new bars, restaurants, art installations, pop-up events, tours, impromptu shows, and experiences appearing every few weeks, you and your date will definitely discover something new when you spend the day exploring. Roam the city together or stroll the streets in a neighborhood you've never explored. Traversing without any specific destination in mind is what makes this date fun and interesting.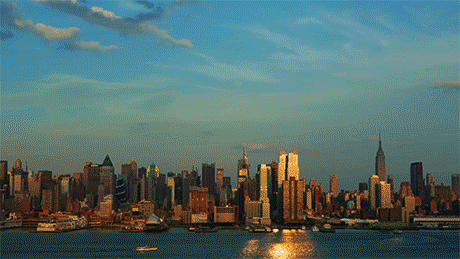 More Readings:

Top 8 Foods to Try in New York
5 Ways to Save Money at the Bar
Dinner Party Do's and Don'ts for a Host or Hostess
Please reload