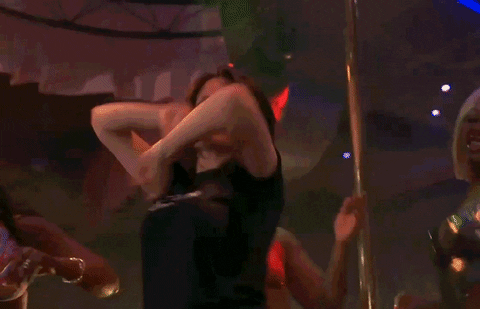 When we go to the club, it's usually to blow off steam after a rough week, to drink, to hit the dance floor, to hear a well-known DJ, or to have a fun night out with the girls or guys. What we don't go for is to witness people acting a fool and messing up our night. Here are four dumb things clubgoers do that just annoy the rest of us, period. #bad vibes
1. Hand someone a drink without an introduction
No matter how often guys deliver drinks to the "special" woman they've been eyeing, it's still not a good look. Don't hand a woman a drink if you haven't asked if she wanted said drink, let alone spoken to her. Do you think she will feel obligated to talk to you or that she'll spend the rest of the night with you because of a free drink? Think again. It's just bad vibes fellas. It only gets awkward for you when she says "no, thank you," and leaves you standing there with your questionable drink.
2. Dance with someone without asking
We know dancing is a big part of going to the club, but that doesn't mean you can dance on whomever you please just because you're a few drinks in. Nobody's idea of a fun night includes a random stranger grinding on them. And, if you think you're being subtle, we're willing to bet you're more like a bull in a china shop. If you love to dance, great, maybe you can show us your moves after you ask, and we accept. Groping, copping a feel, or not-so-accidental contact are all moves that will land you in the back of a squad car. 
3. Try to have a deep conversation
Don't confuse a nightclub with a speed dating sesh. The sole purpose of one is to connect, talk to people, ask questions, and hopefully leave with a few prospective dates. The purpose of the other is to drink up, dance up and turn up. The club is no place to get into deep conversations or ask probing questions about someone's line of work or their political opinions. For starters, loud music means you have to scream at the person right in front of you, and also, who goes to the club to make deep conversation the highlight of their night? #thankyounext
4. Pretend you're too cool
What's with people who go to the club to stand around looking pretentious AF, but think they're so cool? They don't dance, they don't bob their heads, they don't do anything except stand around staring at everyone and look creepy. Please stop creeping the rest of us out. You can stand on any street corner and be as "cool" as you want, for free.
More Readings:
The World's Best Party Countries
5 Fun Tequila Drinks That Are Super Easy to Make
The Ladies' Guide to Nightclub Attire
Please reload