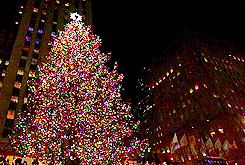 Nowhere does Christmas like New York City. If you've ever watched a movie set in NYC at Christmastime, you know our holiday season is lively and eventful. The city's Christmas culture comes alive with a combination of unique, magical, dreamy, and fun elements all wrapped up in a giant bow. As busy as New Yorkers are, we always manage to slow down just enough to enjoy a little bit of all the city has to offer during the holidays. Here are the seven best things to do and places to see during the holiday season:
What: Christmas Spectacular starring The Radio City Rockettes
Where: Radio City Music Hall, Midtown West
When: Nov. 8, 2019 – Jan. 5, 2020
The Rockettes have been dazzling audiences with their iconic performances for almost a century. Their classic Christmas Spectacular show features flashy and festive costumes, choreography, singing, dancing, special effects, and of course, live animals. You'll enjoy every minute of this immersive and interactive experience. But don't take our word for it, get your tickets at Rockettes.com.
____
What: The Rockefeller Christmas Tree
Where: Rockefeller Center, Midtown
When: Dec. 4, 2019 – early 2020
The Rockefeller Christmas tree is a NYC Christmas staple that tourists and locals alike can appreciate during the holiday season. The Rock's tree is so iconic, it lights up for the first time during a live broadcast, with musical acts and fanfare that brings out the Christmas cheer in everyone. And if you didn't know what a big deal this is, just try to find a good viewing spot among the thousands of spectators at the ceremonious lighting event. But don't worry, you can also watch the event from the comfort of couch on Dec. 4 from 8-10 p.m.
____
What: Holiday Window Displays
Where: Various locations
When: Late November, lasting through the season
When it comes to holiday window displays, NYC department stores are a cut above the rest. Each year store windows get more magical and more elaborate. Just take a walk along Fifth Avenue from Central Park and you'll see what we mean. Along the way you'll marvel at mesmerizing displays in front of Saks, Bergdorf Goodman, Tiffany & Co. and, and Louis Vuitton. Walk over to Lexington Avenue to catch Bloomingdales' ornate window exhibit, then head to Macy's at Herald Square for more spectacular sights.
____
What: Bryant Park Winter Village
Where: Bryant Park, Midtown
When: Oct. 31, 2019 – early 2020
When Bryant Park's winter village opens, you know the holidays are here. The park becomes a winter wonderland with special events, activities, specialty food and drink, shopping, and much more. Visit any of the more than 175 boutique shops and vendors for handmade gifts, local food, and novelties from around the world. One visit just isn't enough, so expect to visit the winter village a few times during the season. For a full list of shops, visit BryantPark.org
____
What: Central Park Holiday Lighting
Where: Central Park, Upper Manhattan
When: Dec. 5, 2019, 5:30-6:30 p.m.
Nothing says Christmas like the spectacular lightshow at Central Park during their holiday lighting event. It's definitely one of the brightest ways to welcome the holidays, with Santa, hot chocolate and holiday carols. The Charles A. Dana Discovery Center is transformed into a beautiful display of lights for this annual event, which also features a flotilla of trees on the Harlem Meer. Go for the light show and stay for Santa and the carols.
____
What: Christmas Markets
Where: Various locations
When: Usually mid-November-December
Christmas markets are always a treat, or several, during the holidays. You never know what new and delicious food you'll discover and there are always so many exciting options to choose from. And you can't try just one or two delicacies, just like you can't just visit one market. Whether it's the indoor market at Grand Central, the Union Square Christmas market, Bryant Park holiday market, or Columbus Circle holiday market, none of the above will disappoint. Aside from food, these markets also deliver when it comes to holiday gifts. You can check everyone off your list, even that uncle who's impossible to shop for.
____
What: The New York Botanical Garden Holiday Train Show
Where: New York Botanical Garden, Bronx, NY
When: Nov. 23, 2019 – Jan. 26, 2020
The train show at the Botanical Garden is another treasured event during the holiday season. Watch as model trains whiz by iconic landmarks like The Statue of Liberty, Rockefeller Center and Central Park. The display, which showcases more than 175 NYC landmarks, is entirely constructed from natural materials such a bark, acorns and moss. The event features programs for kids, poetry and musical performances, and seasonal food and drink. Visit nybg.org for more information.
More Readings:
7 Ways to Spice Up Your Holiday Party
5 Reasons to Hire a Holiday Caterer
5 Tips for Hosting a Sit-Down Dinner
Please reload