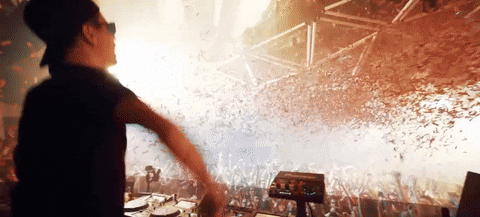 Just because it's winter doesn't mean festival season is over. If you live in a state where brutal winters are par for the course, winter music festivals are a great way to take your mind off the chilly temps and perpetually numb fingers. You won't have time to register that cold air while you're watching amazing performances from your favorite bands, and probably dancing your butt off, too. Your next winter festival may not even require you to brave cold temps, since you can also catch winter music festivities in cities with more bearable temperatures, such as the West Coast or the Southeast. Here are the top five music festivals you should check out this winter:
1. MTV's SnowGlobe Music Festival — Lake Tahoe, California
Head to South Lake Tahoe for the SnowGlobe festival from Dec. 29-31, to ring in 2020 the right way. This three-day fest features top artists like Skrillex and Fisher, just make sure you dress in layers, since you never know how frigid this year's winter might be. Lucky for you, there'll be enclosed and heated areas throughout the venue, so you can warm up if you get too cold.
2. Rolling Loud — Los Angeles, California
Rolling Loud LA is another West Coast festival that won't disappoint with its lineup of the hottest hip-hop artists like Chance the Rapper, Future and A$AP Rocky. This year Rolling Loud happens on Dec. 14-15. We suggest buying a two-day ticket, so you don't miss any of the dope performers at LA's biggest hip-hop takeover.
3. Tomorrow Never Knows — Chicago, Illinois
Head to Chicago in your layers for this music festival that brings indie and national rock artists together for nonstop performances by cool bands. The festival will be in its 15th year next year, and combines musical acts, comedians and other fun festival activities that make it worth your while. If you're a rock fan and indie music lover, then this Chicagoan musical festival is worth braving the cold for. This winter the festival takes place on Jan. 15-19, 2020.
 
4. Winter Jazzfest — NYC
This NYC festival is an annual tradition just as much as any of the cool summer festivals the city has to offer. Jazzfest is more than a music festival, it also includes panels that discuss racial justice and social issues. This 10-day festival has been running for almost 20 years and features well-known musicians as well as newcomer artists and composers. It takes place at different clubs in the city, and you can attend multiple shows each night.
5. Tomorrowland Winter — Alpe d'Huez, France
Tomorrowland Winter is the mother of all winter music festivals. It combines skiing, music and partying while surrounded by a gorgeous backdrop — the French Alps. Paris is great, but the Alps are in a class all their own, and so is Tomorrowland. The festival runs from March 14-20, 2020, and on every one of those days you can watch the top DJs, like Armin van Buuren, Afrojack and Steve Aoki on stage. If skiing and snowboarding are your favorite Winter Olympic sports, you'll enjoy the best of both worlds at Tomorrowland. World-class DJs for your partying pleasure and world-class slopes for all the skiing your heart desires.
Please reload